Full Life Ministry Kenya – Sponsorship
Triumphant Grace Academy
Triumphant Grace Academy (TGA) began in 2015 with 42 children in our first Early Childhood Development (ECD) program. ECD in Kenya usually consists of three classes, Baby Class, Middle Class & Top Class. At the end of 2015, we graduated 17 children from our TopClass to Grade 1. Of the three feeder schools in our area, TGA placed the #1 top ranked student in two of the three schools!
In 2016, we began our first Grade 1 with 15 children. Then, in 2017, we prayerfully began Grade 2 as those same 15 children advanced. Now, 2019 we continue only because God has been faithful with the addition of Grades 3 & 4. Now a total of 91 precious children in our ECD – Grade 4 classes.
Type I Sponsorship –   

Sponsor a child by providing their complete school education – $25 per month
Your sponsorship provides everything your child will need such as their uniform, books, supplies, exam papers, a meal at school, superior teaching and lots of love.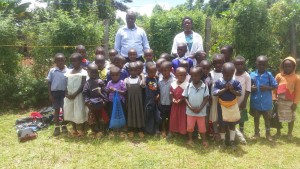 Type II Sponsorship –   
Sponsor a child by providing  a school uniforms for a one time gift of $25.                       Uniforms are mandatory in Kenya.
One Uniform includes : Girls: Dress; Sweater; Socks & Shoes
: Boys: Trousers; Shirt; Tie; Sweater; Socks & Shoes