Full Life Ministry Kenya – Sponsorship
Triumphant Grace Academy
Triumphant Grace Academy (TGA) began in 2015 with 42 children in our first Early Childhood Development (ECD) program. ECD in Kenya consists of Pre-Primary Class I and Pre-Primary Class II. At the end of 2015, we graduated 17 children from Pre-Primary II to Grade 1. Of the three feeder schools in our area, TGA placed the #1 top ranked student in two of the three schools!
In 2016, we began our first Grade 1 with 15 children. Then, in 2017, we prayerfully began Grade 2 as those same 15 children advanced. Now, 2022 we continue only because God has been faithful and those who help sponsor some of these precious children.
Type I Sponsorship –   

Sponsor a child by providing their complete school education – $25 per month
Your sponsorship provides everything your child will need such as their uniform, books, supplies, exam papers, a meal at school, superior teaching and lots of love.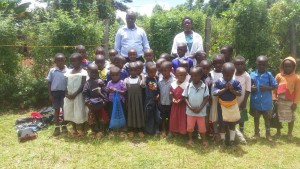 Type II Sponsorship –   
Sponsor a child by providing  a school uniforms for a one time gift of $25.                       Uniforms are mandatory in Kenya.
One Uniform includes : Girls: Dress; Sweater; Socks & Shoes
: Boys: Trousers; Shirt; Tie; Sweater; Socks & Shoes